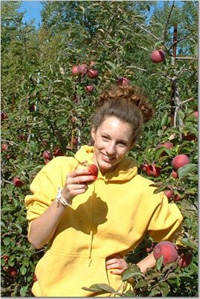 Kelly Orchards is a family fruit farm founded in1982. We specialize in tree fruit and also raise berries. We raise apples, peaches, plums, pears, blueberries, pumpkins and fall squash. We also provide the apples for After Harvest Cider Company, a craft hard cider producer. Our crops are grown using Integrated Pest Management (IPM).
We think community is important. We try and focus our marketing locally. We participate in local farmers markets and sell our crops to farm stands and stores in both York and Cumberland counties. We are also open seasonally for Pick Your Own peaches and apples. We make every effort to employ folks in the Acton area and try and procure our equipment and supplies in our area. We like to trade with our neighbors and work within the local economy. If you want the local hardware store to be there you have to trade there.
We think the environment is important. We focus our pest management program on the most up to date pest management practices using IPM. Our pest control measures take such things as impacts on bees, beneficial insects and bugs, persistence in the environment and worker and consumer safety into account. A great deal of time goes into continuing education and research in this area.
We think diversity is important. We support efforts locally and nationally that support and promote diversity. Diversity is what makes our nation strong and special in so many ways.
We think quality is important. We try and harvest our crops at the proper stage of maturity and ripeness to provide the best eating experience possible. We harvest, handle, transport and store our crops with great care to maintain that quality and condition.
Our mission is to provide local consumers with the best quality possible and to produce our fruits and other products in an environmentally responsible way.
We market our fruits PYO, at local farmers markets and wholesale. Contact us for more information. Find out what is going on and available by calling ahead or following us on Facebook or Instagram.
You are always welcome at Kelly Orchards. Please call for days and hours.
We hope to see you soon, The Kelly Family
Kelly Orchards
82 Sanborn Road
Acton, ME 04001
Tel: 207-636-1601
kellyorchards@gmail.com